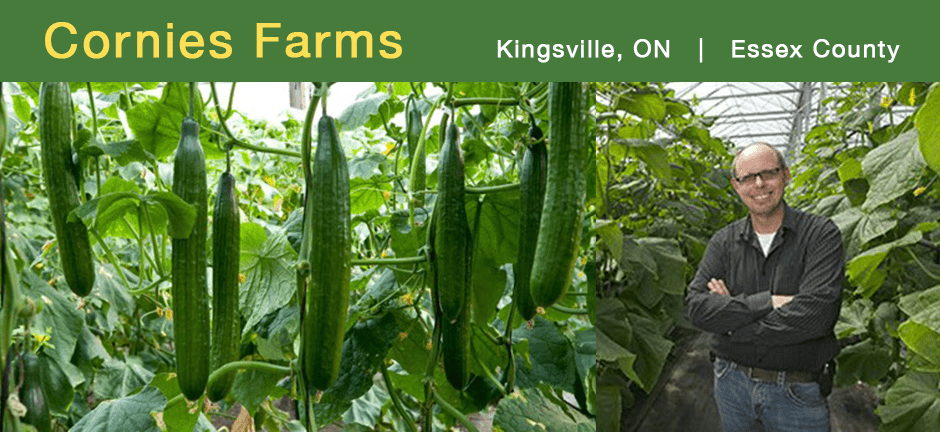 On the surface, the Cornies' farm family story sounds a lot like many other farm stories in Ontario – a son working in a family business that spans several generations. Yet the path to being a cucumber greenhouse farmer wasn't a direct one for Jamie Cornies (pictured above).
Although raised in the family cucumber business near Kingsville, Cornies didn't have much interest in returning home when he graduated from high school. "That was actually the last thing I wanted to do," he said with a chuckle.
He attended Ridgetown Agricultural College, graduating with a diploma in agricultural production with a horticultural specialization. Upon graduation, he spent 10 years working for two different vegetable canning companies.
It was 23 years ago, after a lot of reflection, that he made the decision to return home to the family farm. "My roots brought me back," he said, adding that he has "zero" regrets about returning to the business started by his grandfather in 1956 and then expanded by his father.
Cornies Farms grows seedless English cucumbers. In fact, they were one of the first greenhouses in Canada to introduce the crop in the 1970's, using seeds that were imported from Europe. "At that time, seedless cucumbers were unheard of," Cornies recalls. Now they're one of Ontario's most popular vegetable crops.
Today, on a peak harvest day, the farm will harvest 84,000 cucumbers (7,000 dozen) for markets in southwestern Ontario and the United States. They've also introduced cocktail cucumbers (miniature cucumbers) to the crops that they produce. To learn more about how miniature cucumbers are grown in Ontario greenhouses, watch the video below.
In total, Ontario's 121 cucumber growers produce 300 million English cucumbers annually in 654 acres of greenhouses.
The Cornies' greenhouses operate year-round. Each set of vines produces a crop for between 12 and 16 weeks with new vines being planted three times annually. Their busiest season runs from April through to August when their staff will be supplemented with 40 additional employees – half local and half seasonal workers from Mexico, many who have been returning to the area for years to work alongside local farmers.
What lies ahead for Cornies Farms? More of the same, he hopes. Jamie's 19-year-old son, a college student, is showing interest in joining the family business. His daughter is still in high school so it's too early to tell where her career path will take her.
"It's a great industry to be in," said Cornies. "I made the right decision to return home and work here."
Cucumber Facts
Greenhouse cucumbers in Ontario are not grown in dirt (soil). The most commonly used material is called Rockwool. It has this super cool ability to hold water making it ideal for growing cucumbers year round.
Field cucumbers on the other hand are grown in soil and are available in Ontario between June and October!
Cucumbers are 96% water, which means they do not contain as many nutrients as a drier vegetable like squash; however is a source of Vitamin C, Vitamin K and Potassium.
Resources