Mark your calendars! We're thrilled to announce that the Ontario Student Nutrition Program – Southwest's (OSNP – SW) annual GBC will be taking place on Thursday, October 21st, 2021.
This year, OSNP looks forward to….
Celebrating local farmers and producers and the abundance of vegetables and fruit we have available to us in the Southwest Region and beyond!
Celebrating the fall harvest!
Kicking off the 2021.22 school year!
Download 2021 Resources!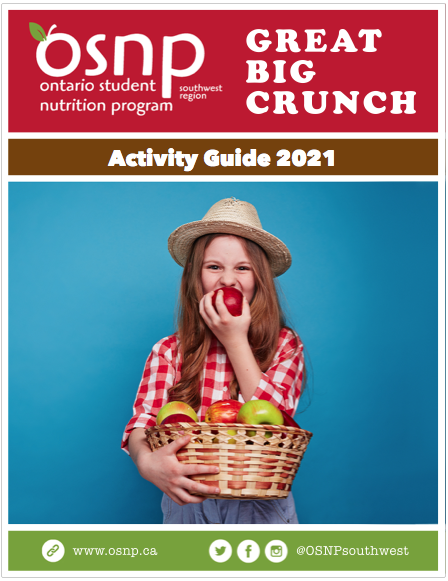 If your school is participating in the 2021.22 School Food Delivery Program – Phase One, apples will be included in the menu and delivered to your school. So if you choose to celebrate the GBC, apples will be available to do so.
OSNP – SW no longer formally supports the Great Big Crunch regionally. If you aren't participating in the SFD program, we encourage you to connect with your local Community Development Coordinator to learn about local support, if applicable. If you decide to host a crunch at your school in October, please check out the attached resources below to help support GBC activities in your school. Make sure to share your crunch pictures and stories by posting on Facebook and/or Instagram. Be sure to tag @OSNPsouthwest and use #GreatBigCrunch! We can't wait to see what you're up to.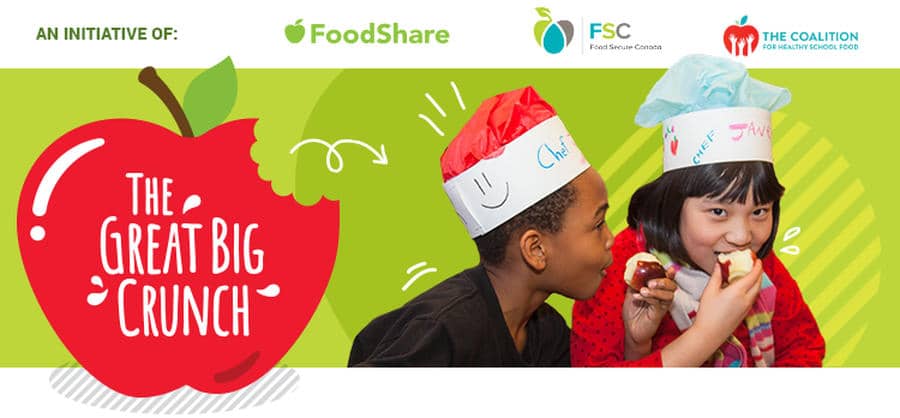 Apple Face Mask Cutout Apple Information Sheet
Canadian Apple Orchard Virtual Tour Ontario Apple Grower Video
Learn about the different varieties of apples
What if you don't have an apple to crunch on? We encourage you to munch and crunch on another veggie or fruit. We love to celebrate healthy eating and no better way to enjoy other produce options!
In partnership with the University of Windsor's teachers college, OSNP has developed Grade 5 lesson plans, which align with the Ontario curriculum, that are linked to the vegetables and fruits. OSNP – SW thought these could be useful to share if you incorporate other vegetables and fruit into your GBC festivities.
Health and PE Language Arts Math
Science Social Studies Visual Arts
To understand more about where your food comes from, to celebrate healthy eating, the fall harvest and learn more about the farmers and producers that put food on our tables, please visit Foodland Ontario.