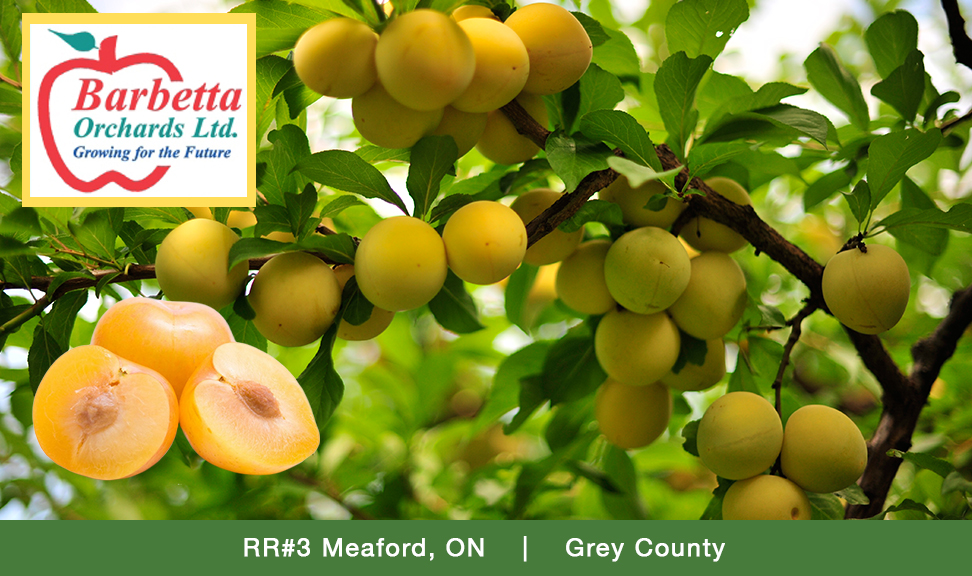 Cecil C. Johnston first purchased the Barbetta's Orchards farm in 1936. A successful Meaford pharmacist, who at various times was also active in real estate, cattle, and vegetable canning, Cecil had little farming experience, but he had a dream. Gradually he began to develop the land, and was growing some of the finest fruit in the area.
By 1958 Cecil's son Barry Johnston had returned to Meaford after completing his studies at Guelph Agricultural College, and Barry set to work building upon what his father had started. In addition to growing apples, Barry saw a need for adequate fruit storage and warehousing so facilities were built to provide both cold storage and controlled atmosphere warehousing both for Barbetta's own fruit and for other area farmers. This advancement allowed for their fruit to be stored and available for sale year round.
After Barry passed away in 1995, operation of the family orchard was continued by Barry's wife Marlene and their son Brad, who had built a home for his young family on the farm property in 1988 and was working full time on the farm.
Over the years, the farm has grown to 70 acres. 65 of those acres contain 20,000 apple trees, while the other 5 acres have some 400 pear and plum trees. Diversification into raspberries, sweet cherry, peaches, and crabapples has been a wonderful success, and blueberries are now being produced as well. You can come visit Barbetta's Orchards September through November to pick up some delicious local fruit. 
Fun Facts
Plums range in shape and flavours vary from sweet to slightly tart. Ontario plums are either of Japanese or European descent. All are fine for eating, with the European prune types also well suited to cooking.
Yellow and red plums are descended from Japanese plums; the blue plums and blue prunes are forms of European plums.
The Early Golden variety is Ontario's most popular yellow plum, followed closely by the Shiro. Both are round, firm-fleshed with yellow skin. Major red varieties are Burbank, Ozark Premier and Vanier.
Popular eating plums are Bluefre, California Blue, Valor (medium to large size, blue skin, bright yellow flesh), Voyageur (smaller, yellow flesh, purple skin) Verity, Veeblue and Victory (dark purple skin, orange flesh).
Resources