Mark your calendars, OSNP Southwest's Great Big Crunch is Thursday October 22nd, 2022!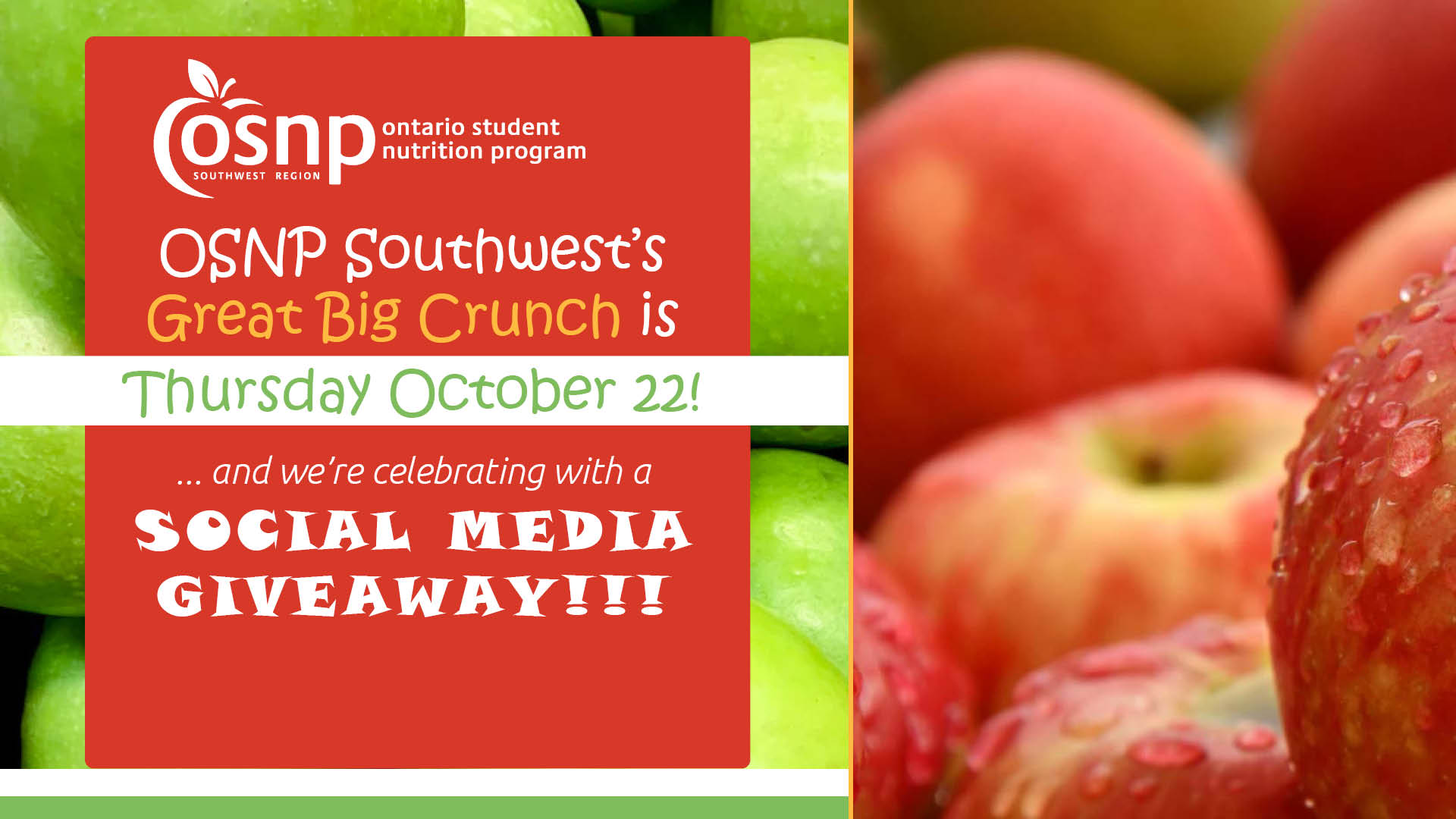 Join The Ontario Student Nutrition Program – Southwest Region (OSNP – SW) by crunching on apples. Don't have an apple? Feel free to grab a carrot, cucumber, pear or any other delicious piece of crunchy produce to celebrate the Great Big Crunch!
This fun initiative gets kids, educators, parents and politicians to think about the impact food has on our kids while making a whole lot of noise! You may set some time aside in class, organize an assembly, or encourage the crunch during lunch hour.
When you crunch, you'll be teaching your students about the nutritious and delicious benefits of apples and local food, while taking part with other students from across Southwestern Ontario. Whether your class or school participates in a day's worth of activities, an afternoon or just one big crunch, we hope your students get excited about local food and healthy eating.
By Crunching with us, you will be celebrating:
Student Nutrition Programs
Local farmers and the abundance of vegetables and fruit we have available to us in the Southwest Region
The fall harvest & healthy eating
The beginning of the 2022-2023 school year!
How to take part in the Great Big Crunch?
Get some apples or crunchy fruit or veg
Check out the activities and resources below, and gather materials for your Great Big Crunch activities.
Like us on Facebook and follow us on Instagram and Twitter @OSNPsouthwest and use #GreatBigCrunch to let us know you are crunching.
Share! Share your crunch pictures and stories by posting and tweeting @OSNPsouthwest and hashtag #GreatBigCrunch. By sharing your GBC celebrations, tagging OSNP – SW and using the #GreatBigCrunch hashtag your school will be entered into a draw to win a grocery gift card! Fine more giveaway information below.
GBC Giveaway!
Sharing your crunch pictures and stories by posting and tweeting @OSNPsouthwest.
Mentioning your school's name in the caption so we know who's celebrating with us
Use the hashtag #GreatBigCrunch and #F2S2022.
Three lucky winners will receive a grocery gift card valued at:
1st Prize = $250
2nd Prize = $150
3rd Prize = $50
The giveaway will run during the day of October 20th. The winner will be announced the week of October 31, 2022.
Let's get Crunching!