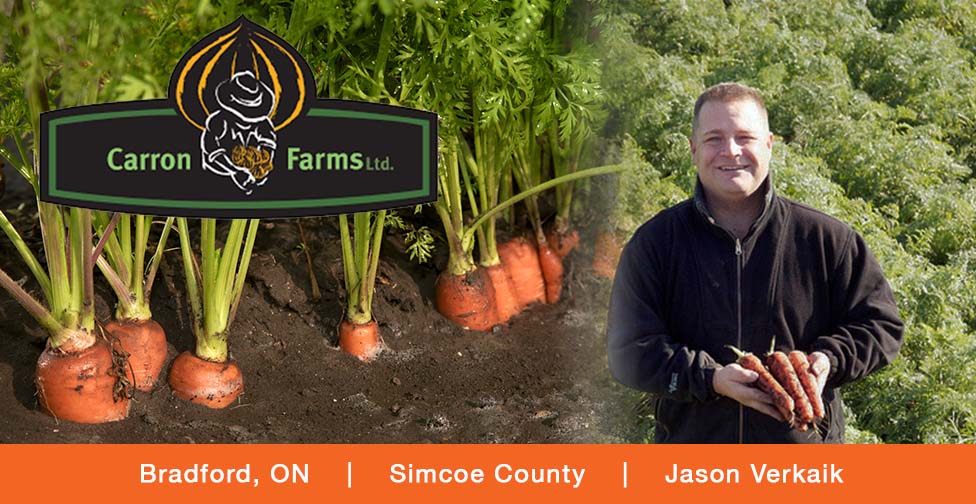 Meet Jason
A fourth generation farmer in Ontario, Jason traces his family's farming history to Chatham-Kent in the 1920s when his great grandfather emigrated from the Netherlands. In 1934, his grandfather and two brothers moved to the Holland Marsh and established farms as the Verkaik brothers. In 1964, as the family grew, Jason's grandfather started Carron Farms. The name reflects the main crops they grow – Carrots and Onions. Carron Farms currently grows 250 acres of vegetables in Ontario and focuses on sustainability.
A Typical Day at the Carron Farm:
A typical day for Jason a bit different from what it used to be a few years ago. Every day is different for Jason but the seasonality stays the same. He has long days here at the farm, running from anywhere from 7 am to 8pm or even 11pm, six days a week.
Carron Farms has two packaging facilities that run year-round where they package onions, garlic and beets, operating 5-6 days a week depending on the season. Jason manages the sales, the spraying and the crop protection at Carron Farms. Any given day could bring anything from fixing broken equipment to seeding or harvesting.
To learn more about the Holland Marsh and Carron Farm's local production click below.
Carrot Fun Facts:
You can buy Ontario carrots all year round. Carrots are mainly grown in the Bradford area north of Toronto as well as in Chatham area where these carrots came from today.
Ontario farmers produced more than 482 million pounds in 2011 – that's more than the weight of the concrete in the CN Tower.
Not all carrots are orange; varieties vary in color from purple to white!
Not just for rabbits, carrots are high in beta carotene (which is converted in to Vitamin A in the body) that helps you see better at night.
To learn more about Carron Farms please visit their website.
Address: 819 Canal Road Bradford, Ontario, L3Z 4C6
Email: [email protected]
Phone: 902-775-2432